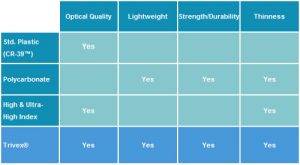 *Monthly Special*
There are many decisions to be made when picking out eyewear. Let a Trivex material be your easiest one!
*cannot be combined with insurance or other offers*
*Cannot be combined with insurance or other offers
We will help you find the right type of glasses or specialty items using advanced materials, to give you the best care possible..
 We are proud to offer only premium scratch-resistant and anti-reflective eyeglass treatments.  We offer a one year warranty with these treatments so if your lenses are scratched during that year, we will replace them at no charge to you.
As a courtesy to our patients, eyewear adjustments and cleaning are provided without charge.  For your convenience, our in town lab is able to fabricate prescriptions of all materials, therefore helping us to meet your time requirements for new or repaired frames and lenses. Express services are available.